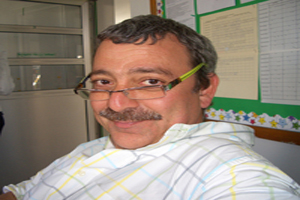 Yiannis page in Future Worlds Center
Laouris is a peace entrepreneur based in Cyprus. He chairs Future Worlds Center and is in the Board of the Institute for 21st Century Agoras. He was trained as a neurophysiologist and systems scientist in Germany and the US. He became known for his peace work in the late 90'ties through his innovative tech4peace.org project, which pioneered in breaking the communication divide. As member of the Conflict Resolution Trainers Group, he was involved in the training of thousands in structured dialogue and conflict resolution. He continues to be an active member of the bi-communal peace movement that is struggling for the re-unification of the island.
Laouris contributed to the scientific refinement of the science of Structured Dialogic Design and is credited for the discovery of the Law of Requisite Action. His team works closely with Aleco Christakis, father of the science, and is an international leader in applications that span the peace process in Cyprus, the Middle East and many pan-European networks. The Hellenic Society for Systemic Studies recognized his contributions in systems science honoring him with their 2008 Award.
In the early 90'ties together with two friends, he launched an island wide experiment to introduce IT in the lives of young children. This venture succeeded to provide the service to almost 15% of the country's population and expanded in 7 countries. His work received many prizes, including the most prestigious 1998 "Industrialists and Employers Federation First Award for Creativity and innovation," traditionally handed over by the President of Cyprus.
Yiannis was born in Pafos, Cyprus; son of Chris (teacher/school inspector), and Artemis; married to Joulietta (child-psychiatrist and psychotherapist) and has one daughter, Romina (political scientist and social entrepreneur).
He studied medicine at the Leipzig University during the years of the cold war, completed a PhD in Neuro-physiology at the Karl-Ludwig Institute (Leipzig) and an MS in Systems and Industrial Engineering at the University of Arizona. Together with cyberneticians/systems physiologists P. Schwartze, U. Windhorst and D.G. Stuart, for over 15 years, he applied digital signal processing in time- and frequency domains to single-cell recordings to study transmission properties and fatigue of cat motor neurons, muscle afferents and Renshaw cells.
Laouris has over 50 papers in peered reviewed journals, chapters in about 20 books and over 130 conference papers.